DEVIANT SHAKTI (CD)
MICHAEL EVANS-LADONNA SMITH
LaDonna Smith, well known as a "devilish" fiddler and exponential avant-gardist on the viola, a forceful proponent of the American free improvisation movement in the South. Michael Evans is an improvising drummer/percussionist/thereminist/composer whose work investigates and embraces the collision of sound and theatrics. LaDonna Smith and Michael Evans, present their joyful collaboration.

ANTENNA ROAD-DAVEY WILLIAMS -(CD)
Listening to such samples as "Friendly Synapse Junction," "Military Brat Blues," and the solo guitar break on "Crossing Shangri-La" should help allay such fears. Williams' lines whine, stutter, and backtrack as his mind feels its way through its source materials, leaving behind a sonic trail of compelling beauty. -Wyman Brantley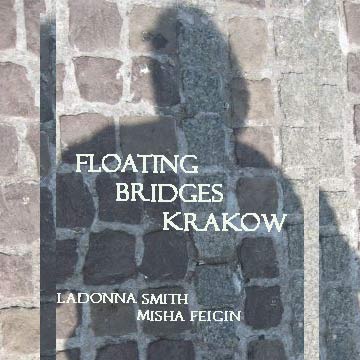 FLOATING BRIDGES (cd) TQ116
MISHA FEIGIN, LADONNA SMITH
Floating Bridges radiates with high energy interplay from the first notes and reveals a musical dynamism of fluid invention and sympathetic creation from the String Trek duo of violist La Donna Smith and guitarist Misha Feigin. Recorded in June, 2007 at the "Meeting of Improvisers" in Krakow, Poland, the set opens with the nineteen-minute "Krakow Concerto." This well recorded live performance captures the duo at a high point of artistic collaboration. - T. Gaudynski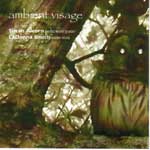 AMBIENT VISAGE (cd) TQ115
SUSAN ALCORN, LADONNA SMITH
ambient moments, inner voices, pedal steel guitar and various string things in the studio,
what better moments than reflections and sensations, recorded at Sequana, Birmingham Alabama, July 2005.
$15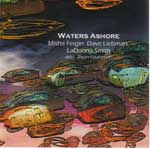 WATERS ASHORE (cd) TQ114
DAVE LIEBMAN, LADONNA SMITH, MISHA FEIGIN with Jason Foureman.
With multi-master Dave Liebman on soprano and tenor saxophones and ancient calls from flutes, from Misha Feigin inspired poetry of JAZZ , to the LaDonna Smith's string serenades and Fouremans growls and howls, this is a beautiful collaborative piece in the spirit of community improvisation. Recorded June 2006, the session inspired from the IAJE International Conference, hosted in Louisville,Ky, June 2006. $15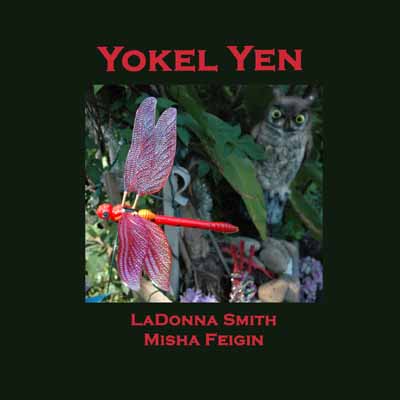 YOKEL YEN (cd) TQ113
LaDonna Smith & Misha Feigin,
violin, viola, harmonica & voice improvisations with Russian poet, author, and improv-minstrel Misha Feigin, guitar & balalakai.
Free musings from start to finish, let your mind wander with the combined sensitivities of these two upbeat musical collaborators, 2006. $15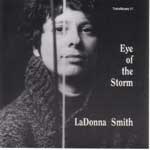 EYE OF THE STORM (cd) LaDONNA SMITH
Solo violin, viola & voice improvisations. Recorded live from solo concerts in Europe and USA, 1992 "LaDonna truly transforms the violin into a spectrum of colors beyond the context of the instrument and purifies your mind with the raw energy of multiple violinistic soundings."
Click to Listen: Atmospheric Debris TQ0011 $22 Rare & limited stock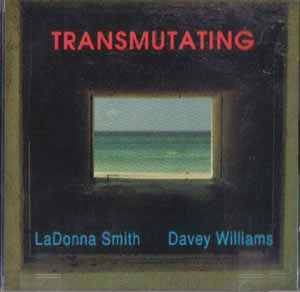 TRANSMUTATING (cd)
Davey Williams and LaDonna Smith, live improvisations
Weaving their musical drama in the psychic automatism that is the true nature of their music, this CD will take you to other realms of the imagination, 1993. TQ0012 $18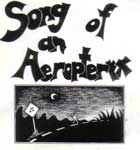 White Earth Streak/Song of Aeropteryx - (cd)
Davey Williams, LaDonna Smith, Gunter Christman, and Torsten Muller. Recorded in Hannover, Germany, 1983. Energetic textural "gator play & static slide kisses". Get this! A Double Whammy? This same release also contains a second special bonus re-release of "Song of Aeropterex, " Davey Williams and LaDonna Smith in home studio. Cover art & cartoon booklet by Hal Rammel. Re-released on UnHeard Music Series.
TQ20013 Not Available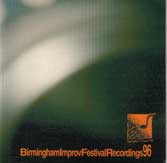 BirminghamImprov96 (CD) compilation of the BirminghamImprov Festival 96. Includes work by Davey Williams, LaDonna Smith, Yuri Zmorovitch, Boris Rayskin, Craig Hultgren, Johannes Bergmark, Arkady Kirochenko, Contra Contra Bass, The Gold Sparkle Band, Atlanta Comprovisors and others… TQ20014 $8

Erogenous Soundscapes (CD) LaDonna Smith and Serguei Letov, soprano & bari sax recorded at Moscow Radio, December 19, and live at 888 Club, Novosibirsk, Siberia December 16, 1995, a rare Pentagramma facsimile release. TQ20075 $20



Yttrbium: LaDonna Smith, solo viola
Table of the Elements #toe 070 lp LIMITED EDITION
"rare earth" long playing record dreaming allotropy, dance of the elements, lanthaneis
(to lie hidden), radiant energy conversions. 2004, LP. TQ20076

$22
---
Archival TransMuseq Releases
LP's & CASSETTES
---
TQ 010 Travellers (cassette) Davey Williams & LaDonna Smith live and electronic, "Destroy All Music" Atlanta, Georgia, 1990. original series now rare. Contact Us

TQ 009 Locales for Ecstacy (LP) Davey Williams, LaDonna Smith, Cinnie Cole-banjo,
&nbspFabled "front-porch" style Southern flavor. (original edition - limited quantity available $30)

TQ 008 Criminal Pursuits

(LP) Davey Williams, solo electric guitar
Original series LP now out-of-print, CDR facsimile may be obtained by special order /CDR, $22. Contact Us

TQ 007 White Earth Streak (LP) Quartet - Davey Williams, LaDonna Smith, Gunter Christman, and Torsten Muller Recorded in Hannover, Germany, 1983. Energetic textural "gator play & static slide kisses,the ecstacy of real time improvisation, guitar, viola, double bass, trombone".
(original edition -limited quantity available $30)

TQ 006 Alchemical Rowdies (CD) LaDonna Smith, Davey Williams with Danny Finney-saxes, Paul Watson-trumpet, Pippin Barnett-drums, studio recording, Richmond, Virginia 1981.
(original edition-limited quantity available $30)

TQ 005 Direct Waves (CD) Trans Duo - LaDonna Smith & Davey Williams Recordings from Trans duo tours, 1979 Grand Rapids, 1980 Palais des Beaux Arts, Brussells, Belgium (original edition- limited quantity available $30)

TQ 004 Velocities - LaDonna Smith & Davey Williams with Andrea Centazzo,
percussion, Recorded live at La Sala Bossi, Bologna, Italy 1979. Side Two
recorded at Ictus Studio, Pistoia, Italy, 1979. (limited quantity available $30)

Special order reproductions of out of print, obscure and limited edition cassette & tape releases may be obtained by special inquiry from the TRANSMUSEQ Archives. email here

TQ 003 Jewels (LP) Anne LeBaron-harp, with Davey Williams & LaDonna Smith Recorded in Trans Studio, Birmingham Alabama, 1979. (LP out of print)

TQ 002 TRANS II, Folk Music (LP) Trio: LaDonna Smith & Davey Williams, with Theodore Bowen, double bass. Recorded at Trans Studio in Tuscaloosa, Alabama 1976. (out-of-print)

TQ 001 TRANSCENDPROVISATION (LP) the original group, Davey Williams, LaDonna Smith, Theodore Bowen, T.R. Reed, Anne LeBaron, Jim Hearon. Recorded at Trans Studio in Tuscaloosa, Alabama. (out-of-print)
---
Order from:

TRANSMUSEQ RECORDS


PAYPAL

---
LIMITED BACK ISSUES AVAILABLE:

the improvisor


the international journal of free improvisation The purpose of the improvisor is to foster community among improvising musicians on a national and international level. It is important for aquaintance with others of similar interests, philosophies and attitudes, to network, listen to each other's music, exchange and inform, encouraging music making communities and a global network.

~ Printed editions recommended for collectors ~

the improvisor -Volume 11, the international journal of free improvisation,
102 pages of essays, writings, reviews, philosophies, theories, and more on the topic of free improvisation around the world. Final issue in hard-copy print, 1995. Edited by LaDonna Smith. ($12)

the improvisor - Volume 10 "Sun Ra edition" (limited number of printed copies still available) Edited by LaDonna Smith & Glenn Engstrand. 1993. ($15)

the improvisor - Volumes 1-10 "Back issue Set" (available in photocopied & limited printed editions) Volumes. 1-9 Edited by Davey Williams. ($120)

the improvisor "Complete Collection" Volumes I-XI (photocopied back issues plus original printed edition of Vol. XI book format) ($135 )

~ ILLUSTRATED BOOKS by DAVEY WILLIAMS ~

0038 Which Came First? The Fried Chicken or The Fried Egg?
Now the story can be told. 70 pages cartoons and illustrations. Great entertainment, be it your kitchen table, your pocket book, or your out house, a surreal life perspective of the fried egg. ($16)



0039 SOLO GIG, Essential Curiosities in Musical Free Improvisation by DAVEY WILLIAMS

PAYPAL

CHECKOUT
---